[Updated Dec 2019]
Motorists driving on Austrian motorways must pay a toll. Failure to buy an Austrian vignette, the country's toll pass, can result in a spot fine of at least €120.  You can avoid this by knowing what the vignette is and where you can buy it before driving in Austria.
There are more than 2,200km of toll roads in Austria. They are mostly motorways and expressways which maintenance is paid for by toll fees in the form of a vignette. In addition, there are sectional tolls for roads which cost more to maintain. The Brenner pass toll is a good example.
Driving on toll roads in Austria is cheap compared to Italy and France. At €91,10 for an annual vignette in 2020, the use of the motorways comes to less than 30 cents per day. In addition, tourists are accommodated in the form of a 10-day or 2-month vignette for a fraction of the annual Austrian vignette price.
What is the Austrian vignette?
A vignette is a toll pass. Instead of toll gates interrupting your journey on Austrian motorways, you are required to buy either a toll sticker or an electronic toll pass. This pass is called a vignette.
Previously, the Austrian motorway vignette only came in the form of a window sticker. Since 2018, a digital vignette which is linked to your car's number plate is also available.
For various reasons (details below) the digital vignette isn't an option for most tourists, especially those renting a car from a country outside of Austria.
How much does the Austrian vignette cost?
2020 Austrian vignette price for normal car or camper van
Validity
Price
10 days
€9,40
2 months
€27,40
1 year
€91,10
Where can I buy the Austrian vignette?
Toll sticker
The Austrian toll sticker is sold at most petrol/gas stations, post offices, newsagents, and tobacconists in Austria. If you're driving into Austria from another country, the vignette will be on sale at gas/petrol stations close to the border.
Asfinag toll booths, for example on the Brenner pass between Italy and Austria, also sell the vignette. See the section about sectional tolls below.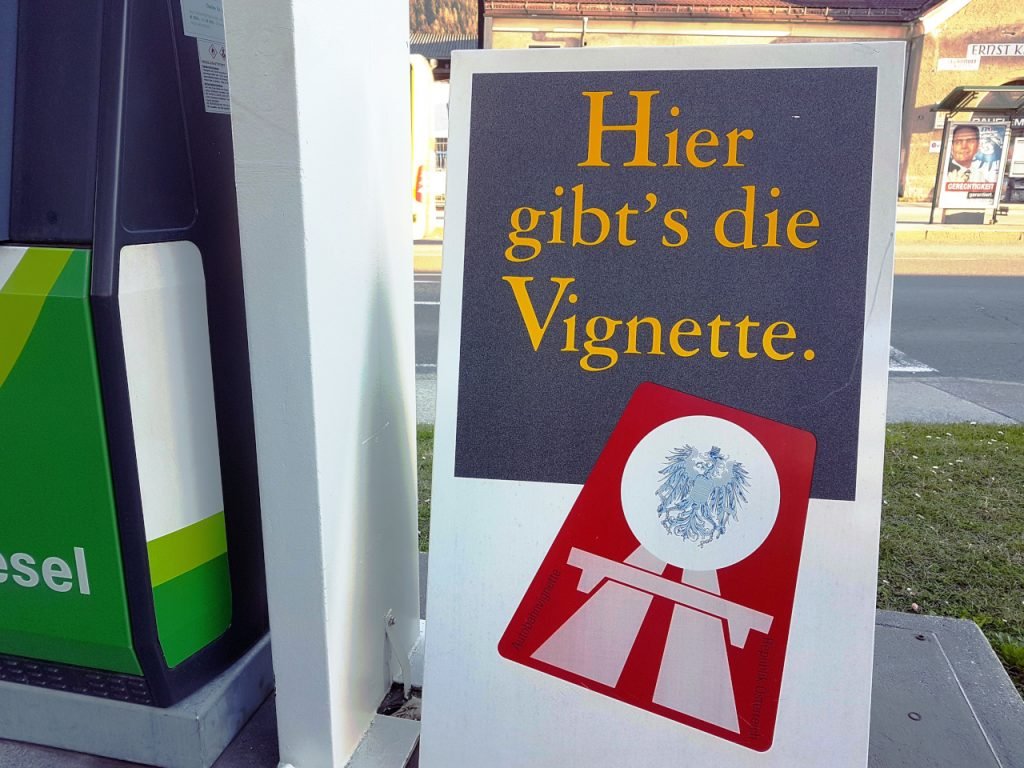 Digital vignette
The digital vignette, which is linked to your car's registration number, can be bought online before your trip. This is convenient if you're driving your own car. However, the digital vignette is only valid after 18 days from the date of purchase. So buy it well in advance!
Another disadvantage of the digital vignette is applicable to rental cars coming from outside of Austria. While Austrian rental cars generally come with a valid vignette, you'll have to buy one for your rental car if you're entering from Germany, Italy, Switzerland, or elsewhere. Obviously, you won't know the registration number in advance to enable you to buy the digital vignette in time for your trip.
Our experience with buying the digital vignette
It goes without saying that we need an annual vignette to drive on the toll roads in Austria. We bought the digital version of the vignette for the first time in 2019. My verdict is that the English version of Asfinag's online shop is easy to navigate. Given the 18-day waiting period, I also like that it gives you the date from which your vignette will be valid. After buying the vignette, you'll immediately get an email with your invoice. It tells you to print the order confirmation and keep it until the end of the validity period of the vignette. In the case of sectional tolls, the printout must be kept in the car.
What's the best Austrian vignette for tourists?
Given the waiting period before the digital vignette becomes valid as well as the complications arising from rental cars, the toll sticker is the better choice for tourists.
Does my rental car come with an Austrian vignette?
Most Austrian rental cars come with a vignette. This isn't the case if you're renting from a neighbouring country such as Germany, Italy, or Switzerland.
Tip: You can check if your rental car has a valid digital vignette by entering the registration number here.
How do I validate the toll sticker?
The toll sticker is only valid if it's stuck on the windscreen. Also, the 10-day and 2-month toll stickers must be punched by the seller when you buy it.
What's the fine if I'm caught without an Austrian vignette?
A spot fine of €120 is to be paid if you're unable to show proof of a valid vignette in Austria. And if there's evidence that you tampered with a toll sticker, you'll have to cough up €240.
WARNING – Don't take chances!
Buy the vignette, even if you're arriving in the middle of the night! We've had two sets of guests who were stopped close to Innsbruck around midnight. One lot came from Munich airport, tired after more than 24 hours in transit with kids. A vignette was the last thing on their minds. Unfortunately, the policeman who pulled them off had no sympathy. They had to pay the fine of €120 on the spot. That's more than the annual Austrian vignette price!
Thinking of not paying after receiving a fine in the post? Think again. Administrative penalties of between €300 and €3000 may be charged if you don't pay the fine in time.
What is sectional toll?
Some roads in Austria which are particularly costly to construct and maintain have individual toll stations where additional sectional tolls are to be paid. They can be found on the following motorways:
A9 Pyhrn
A10 Tauern
A11 Karawanken
A13 Brenner
S16 Arlberg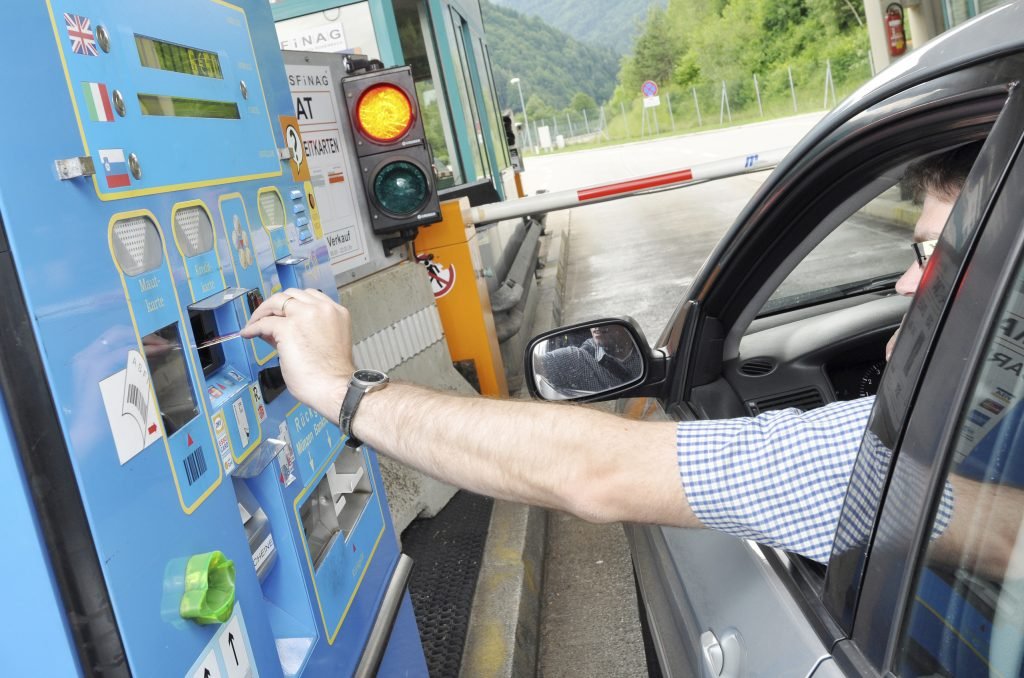 The sectional tolls (single trip or annual permit) can be paid for in cash or by card (credit, debit or fuel) directly at the toll gate. It's also possible to buy a digital pass in advance, keeping in mind the 18-day waiting period for it to become valid. The benefit of a digital pass is that the toll gate will open automatically when you drive through.
How much is the sectional toll in Austria?
Since most tourists won't have use of an annual sectional toll pass, I'm only including the single trip rates.
| | |
| --- | --- |
| ROAD | PRICE |
| A13 Brenner Motorway | |
| Total distance | €9,50 |
| Innsbruck – Patsch/Europabrücke  – Nösslach | €2,50 |
| Innsbruck – Stubai Valley | €3,00 |
| Matrei – Brenner Pass | €4,50 |
| A10 Tauern | |
| Total distance | €12,00 |
| St Michael – Rennweg (Katschberg Tunnel) | €6,00 |
| St Michael – Flachau (Tauern Tunnel) | €6,00 |
| Zederhaus – Flachau (Tauern Tunnel) | €6,00 |
| S16 Arlberg Tunnel | |
| Total distance | €10,00 |
| A11 Karawanken | |
| Total distance | €7,40 |
| 14-trip monthly pass | €32,90 |
| A9 Pyhrn | |
| Gleinalm Tunnel | €9,00 |
| Bosruck Tunnel | €5,50 |
Motorists with an annual Austrian vignette receive a substantial discount when buying annual sectional toll passes. For example, we buy the Brenner pass toll ticket because we regularly hike or ski in the Stubai Valley or take day trips to South Tyrol.
How do I stick the toll sticker on the window?
The Austrian toll sticker must be stuck on the inside of the windscreen where it is clearly visible from the outside. Asfinag recommends the top left or anywhere around the rear view mirror. Take care that it's not behind a tinted section of the windscreen.
Don't think you can "share" a vignette with friends. It's not possible to take a vignette off one window and stick it on another. And any evidence of "tampering" with a toll sticker can land you a fine of €240.
DID YOU KNOW?
Only 2% of Austrian drivers are caught without a vignette.
How do I get the sticker off the windscreen?
Don't tell the cops, but we've had old vignette stickers (together with the valid one, of course) on our windscreen for years because it's such a hassle to get them off.
Asfinag makes it sound so easy in their online advice: Lift a corner with a glass or sticker scraper and then pull off the toll sticker.
You'll also need a wet cloth to rub the sticky remains off. Better still is to have warm, soapy water at hand to get rid of it.
Who checks if I have a valid Austrian vignette?
Police and control officers
Will you believe me if I say that in nine years our vignette was only checked once? And that's when I was pulled off for speeding (unknowingly driving 100km/h in an 80km/h zone on the A12 motorway) near the Arlberg tunnel.
I had to pay a spot fine for the speeding and got moaned at because our vignette was stuck on too high on our big panoramic windscreen.
However, that doesn't mean there aren't spot checks. We regularly see cops pulling cars off when they exit the motorway at Hall in Tirol.
In addition to police officials, the toll company Asfinag has around 100 control officers who are permitted to carry out toll checks on Austrian motorways.
Cameras
On multi-lane toll roads in Austria, cameras are used to check for vignettes. You may spot them on gantries spanning the motorway. According to Asfinag, the nine camera systems which are currently in use are moved to different locations every seven to 14 days.
What is a GO-Box?
This is only applicable to tourists with camper vans or buses heavier than 3.5 tons. They are required to buy a GO-Box which calculates your toll based on the EU emission class of the vehicle and distance travelled.
Tip: This handy information brochure by Asfinag contains everything you need to know about the Austrian vignette.
Was this post helpful? Please share it!