Austria and Tyrol are synonymous with skiing holidays in winter. However, there are many other great things to do in Austria in winter. From Christmas markets to tobogganing and music concerts to relaxing in a thermal spa – read all about it here.
10 things to do in winter in Austria if you don't ski
City sightseeing without the crowds
Vienna, Salzburg, and Innsbruck are Austria's most visited cities and especially busy in summer. Visiting in winter means fewer crowds.
Winter in Austria is obviously colder but temperatures rarely drop under zero during the day and there are plenty of sunny days. The insides of shops, restaurants, and museums are warm and cosy. And outside you may be greeted by a winter wonderland when it snows.
Innsbruck and Salzburg are among the 10 most beautiful European winter destinations. Their historic centres are small enough to explore on foot. While Vienna is somewhat bigger, the city has a very efficient public transport system.
There really is no excuse not to visit Austria's beautiful cities in winter. From Salzburg's UNESCO World Heritage historic centre with Mozart's birthplace and the Hohensalzburg Fortress to the Golden Roof with its mountain background in the heart of Innsbruck – there is more than enough to see.
Further east, Vienna should be part of any Europe winter itinerary. You'll discover that you won't easily run out of ideas of what to do in Vienna in winter. There's Schönbrunn Palace, Vienna Time Travel, and the MuseumsQuartier to mention but a few.
Tip – If sightseeing is the main reason for your winter holidays in Austria, consider a sightseeing pass. The Innsbruck and Salzburg Cards and the Vienna Flexi Pass are good value for money if you're planning on visiting at least two museums and other attractions.
Tobogganing
Another way of coming down a mountain that requires much less skill than skiing is on top of a sled.
Tobogganing is fun for the whole family. No wonder it's one of the favourite activities among locals in Austria in winter. You can opt for the easy way out by taking a cable car to the start or try the more traditional way of walking up the track and pulling the sled behind you.
The Austrian Tyrol alone boasts more than 750 km of toboggan runs, ranging from easy and intermediate to difficult. Little skills are required to go "dashing through the snow" on the easy and intermediate runs. Just make sure you know how to turn and brake.
The best thing is that you don't have to be in a mountain resort to go sledding. All you need is snow and a hill. However, the benefit of being close to a ski resort is that toboggans can be rented at most of those with their own sled runs. Another plus point is that you can usually take a cable car to the start of the run instead of walking.
Walking 2 to 3 km through a winter landscape, pulling your toboggan behind you, is also fun. Many runs have a separate route for walking up, making it safer. You can even go sledding at night on one of the many floodlit tracks.
An important part of any sledding adventure is to pause at a quaint mountain hut, either at the start, in the middle, or at the end. The appropriate drinks to order are Glühwein or hot chocolate with cream. And why not try some Apfelstrüdel or Kaiserschmarrn (thick pancake strips with fruit compote) for an extra warm feeling inside?
Our recommendation: The toboggan run at the Elfer Lift in Neustift in the Stubai Valley. It's a whopping 8km long, with a traditional restaurant on the way. You can rent toboggans at the lift station. Also, check out this list of top sled runs in Austria.
Tips on what to wear sledding
After a sledding accident due to an icy patch which took me tumbling over the edge, I cannot emphasize enough the importance of wearing a helmet when sledding. For kids, it's an absolute must.
Apart from the usual warm winter snow attire, I highly recommend wearing waterproof snow boots. You'll be doing a whole lot of breaking with your heels. Snow will go up under your pants (even ski pants with elastic at the bottom) and eventually into your shoes if you don't wear them.
Attend a music concert
Austria is as famous for its music concerts as for its mountains. It doesn't matter where you're spending your winter holidays in Austria, there will be a concert near you. Every single town has its own marching band after all.
While it's pretty hard to get tickets for the Vienna Philharmonic Orchestra's famous New Year's Concert, there are many other quality classical music concerts held throughout the city during the winter months. You can also consider attending a performance of the renowned Vienna State Opera.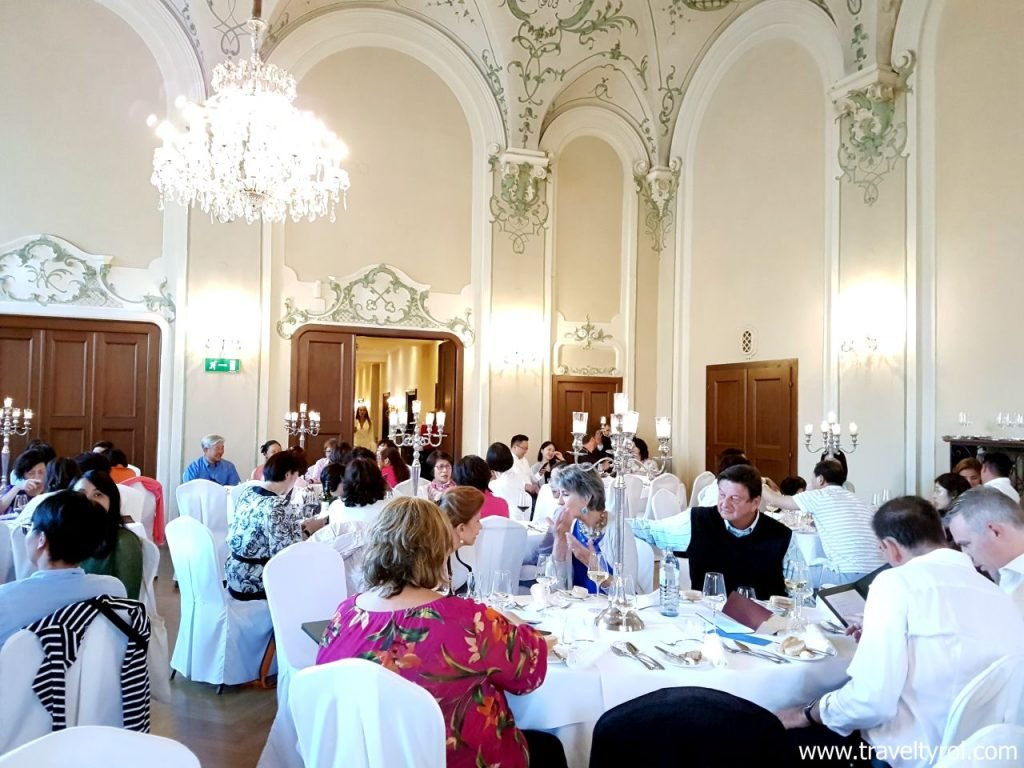 Where else to listen to a Mozart concerto than in Salzburg where the composer was born and spent the greater part of his childhood? I can personally recommend the Mozart dinner concert in the Baroque Hall of the Stiftskeller St Peter which is most likely the oldest restaurant in the world.
Innsbruck has its own impressive provincial theatre company, while different regional initiatives such as the Tyrol Winter Festival Erl brighten up the short winter days.
You can also watch out for the Christmas concerts of the Wilten Boys Choir in the Court Church in the Tyrolean capital. And maybe you have more luck attending the annual New Year's Day Concert by the Tyrol Symphony Orchestra.
Tip – You don't have to totally miss out on the Vienna Philharmonic New Year's Concert if you can't get tickets. It's broadcast live in Austria and more than 80 other countries, so you can watch it from the comfort of your hotel room.
Go snowshoe hiking
Snowshoe hiking or snowshoeing is the latest craze among nature lovers in Austria in winter. I can understand why. It requires only a moderate fitness level (the same as for normal hiking) and no special training or skills.
You can either head for the hills or the valleys on your own (staying on safe, well-marked paths) or join an organised snowshoe hike. The snowshoes allow you to easily walk in deep snow off the beaten path.
Many local tourism organisations offer guided hikes in their respective regions. You can also rent or borrow snowshoes from most of them.
Can you imagine the views over the lake and the surrounding mountains while snowshoeing on the Schmitten mountain above Zell am See?  Another area which is perfectly suited to snowshoe hiking is Seefeld in Tirol.
What to wear snowshoeing: The same outfit that you wear skiing or tobogganing should suffice for snowshoeing. However, wear some layers underneath your jacket so you can take some off as you get hot from the exertion. Once again, gaiters are a good idea to keep snow from creeping up your pants.
Relax in an Austrian spa town
There are various mineral-rich thermal spas in Austria where you can leave all your stress behind. Two spa towns which come to mind are Bad Waltersdorf in Styria and Bad Gastein in Salzburgerland.
Bad Waltersdorf's newly renovated Quellenhotel Heiltherme Bad Waltersdorf features seven thermal pools, 12 saunas, and a range of traditional Styrian medicinal treatments. The water in the Heiltherme (healing thermal spring)  is 10,000 years old and rises up from a subterranean reservoir.
In Bad Gastein, surrounded by the Hohe Tauern mountains in Austria's Salzburgerland province, the water is said to be naturally rich in radon. Empress Elisabeth (Sissi) is said to have come here to be cured of ailments by the healing waters.
The Felsentherme, Alpentherme Gastein, and Gasteiner Heilstollen are all excellent spa resorts in Bad Gastein. The latter even takes you underground into a medieval gold mine.
The biggest and most popular spa in the Austrian Tyrol is the AQUA DOME Hotel and Tirol Therme Längenfeld in the Ötz Valley (Ötztal), about a 30-minute drive from Innsbruck.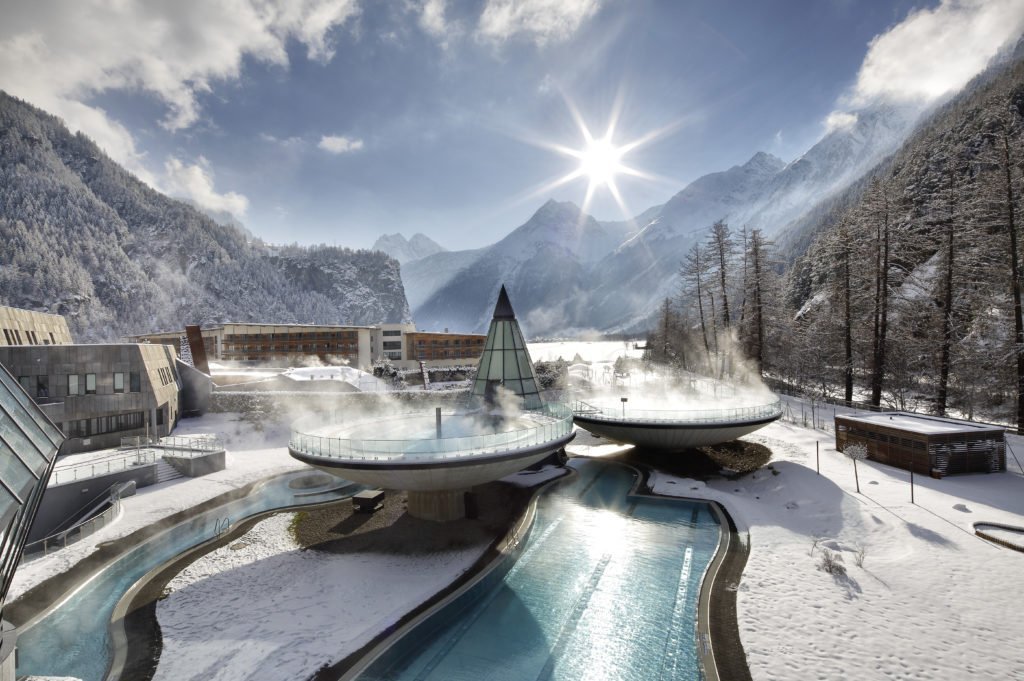 Covering more than 50,000 square metres, the AQUA DOME caters for everyone. A separate children's area with supervision and a free animation programme makes it a hit among families.
If you're looking for something smaller and less busy in Austria in winter, the sulfurous mineral spring water of Bad Häring near Kufstein is a good choice.
Word of caution: If you have privacy issues, don't go into an Austrian sauna. It's indeed true that they are mixed gender and there's a strict "dress code" which requires nudity.
Visit a Christmas Market
If you're in Austria in December, there's no way to miss out on the beautiful traditional Christmas markets.
Spending an afternoon or early evening with your hands wrapped around a steaming mug of glühwein (mulled wine), eating kiachl (deep-fried dough delicacies) and roasted chestnuts while listening to traditional Christmas music is one of the great pleasures of winter in Austria.
When the Christmas market is in a historic city centre or has a mountain backdrop like the Innsbruck Christmas Markets the experience is even more magical. Most Christmas markets in the bigger cities and towns open daily from mid-November to the end of December.
The smaller, and inevitably more authentic, village markets are mostly held over one or two weekends just before Christmas. We love the atmospheric Christmas markets in Rattenberg, Austria's smallest historic old town, and Seefeld in Tirol.
[embedyt] https://www.youtube.com/watch?v=-bGjcEsnXfQ[/embedyt]
From Salzburg, the Christmas markets in St Wolfgang, St Gilgen and Strobl around Lake Wolfgang are only a short bus ride away.
Fun fact: Did you know one of the most beautiful Christmas Carols of all time was written and composed in Austria? You can find out all about it on a magical Silent Night tour to the village of Oberndorf bei Salzburg (near Salzburg) where carol was first sung in 1818.
Tip – Vienna has more than one Christmas market spread around the city. Some of them get pretty busy just before Christmas. If it's your first time visiting, a guided tour of the Vienna Christmas Markets isn't a bad thing to orientate yourself. Afterward, you can go back to the ones you loved at your own pace.
Stand on a snow-covered mountain peak
Cable cars and gondolas in ski resorts aren't only for skiers. If you simply want to know what it feels like to stand on an Alpine peak and look out over snow-covered mountains as far as the eye can see, there are many cable cars in Austria to take you there with little effort.
The Hafelekarspitze above Innsbruck is a 15-minute walk from the top station of the Nordkettenbahnen, which leaves from the city centre. On a clear day, you can see as far as Italy in the South while the German border is somewhere in the rugged peaks to the north.
The Top of Tyrol viewing platform on the Stubai glacier is another popular lookout point for non-skiers in winter. When you exit the gondola, there are only some steps to climb to reach the platform from where you have a spectacular 360° view over the Stubai Alps. Those who've counted them, say you can see no less than 109 summits of over 3,000 m from here.
They're not mountain peaks, but the UNESCO World Heritage views from the Hallstatt Skywalk and the 5 Fingers viewing platform over Lake Hallstatt in winter are something to behold. Hallstatt is an easy day trip from Salzburg.
Tip – For a few months in winter, there's an igloo bar outside the Seegrube station of the Nordkettenbahnen. Why not pop in for a drink?
Cuddle with a husky in Söll
Credit for this contribution goes to Karin Robertson
"In a concerted effort to reduce the amount of stuff in our lives we are weaning ourselves off gift giving in the traditional sense. Wrapping paper and plastic used once and hiffed* (well, relocated to the Recyclinghof) just seems crazy the more you think about it.  Let alone the problem of where to place the sometimes odd offerings we get from well-meaning others…
So, this Christmas we went to the dogs! I got my other half a Huskdays experience in Söll. I went along too…to keep him company of course.
Over winter on Tuesday and Friday afternoons you can spend around 3 hours learning about and giving huskies cuddles.  And they will let you know loudly that you are not to stop with the attention-giving.
For 25 Euros, if you have the local guest card, or 30 Euros without, you are entertained by the mushers and their dogs.  Everyone gets to do a lap in the sled either with the musher (Erwin) or, if you are feeling adventurous, by yourself.  Meanwhile, the friendly information centre guide who brings you over to where the dogs are set up gets busy making a fire and heating up some punch.
It is a really good afternoon out. I can't give too much detail away because a big part of the experience is hearing the story of the group – personalities, where the dogs come from, traits and how the folks got into this activity, etc.
You definitely need to book.  I booked online and paid at the Söll Information Centre on the day. This is where you are asked to gather before Georg the guide takes you on a short walk over to the huskies.  You will hear them before you can see them :lol:.
Söll is about 72 km or a one-hour drive from Innsbruck
* to hiff — highly technical term from Down Under meaning to heave something or to dispose of something.
Embed yourself in an Alpine Village
Quaint Alpine villages have a special charm to them in winter. Strolling through the cobbled streets, spending a quiet moment in a centuries-old church, gazing at the traditional window and door dressings, stopping to have a coffee or glühwein in a "gemutliche" café or stube (pub) – this is what makes a winter holiday in Austria unique and unforgettable.
You can even do a day trip with the train, stopping at different villages. Tyrol towns with train stations near the centre, include Kufstein, Kitzbühel, and Seefeld in Tirol. Kufstein has an impressive fortress to visit, Kitzbühel is great for regional shopping, and Seefeld in Tirol is surrounded by snow-capped mountains.
If you choose wisely, you don't even have to leave your hotel. There are so many lovely hotels in Austrian mountain resorts where you can simply snuggle up with a book next to a Kachelofen (traditional oven-like fireplace) while enjoying the mountain scenery outside. Most hotels offer very reasonable half-board options and have their own spa area.
Take a schnapps tour
If it's cold outside, there's nothing like a well-brewed schnapps to warm you from the inside if you happen to be in Austria in winter.
Fortunately, you will find some of the best craft distillers in the world in Tyrol. There are no less than 4,000 local distilleries in the Alpine province. Each year, they turn 5 million kilograms of fruit into schnapps, spirits, and liqueurs.
Around 40 of the finest distillers have opened their doors to the public to create a Tyrol schnapps route.  When visiting one or more of these local distilleries you will learn all about the fine art of making quality schnapps while doing some "quality assurance taste tests".
An alternative to schnapps tasting – Austria is also home to some excellent beer breweries. At the lack of outdoor beer festivals during winter in Austria, a brewery tour is a great idea for an outing on a cold day.

Visitors to Vienna can tour the Ottakringer Brauerei, while the Stiegl Brauwelt in Salzburg can keep you busy almost all day.  The latter even has a beer museum as well as a cinema.
Planning for your winter holidays in Austria
The weather in Austria in winter
As a central European country, with the Alps taking up a large part, winter in Austria is cold everywhere. Temperatures can easily drop to between minus 10 degrees Celsius at night and even lower.
Here are the average maximum temperatures in degrees Celsius for some of the popular winter destinations in Austria:
| | | | |
| --- | --- | --- | --- |
| City/Town | Dec | Jan | Feb |
| Vienna | 4° | 4° | 6° |
| Salzburg | 4° | 3° | 6° |
| Innsbruck | 4° | 4° | 6° |
| Graz | 4° | 3° | 6° |
| Hallstatt | 3° | 2° | 5° |
| Zell am See | 1° | 0° | 3° |
| Klagenfurt | 1° | 1° | 5° |
Snowfall is common everywhere, especially in the mountainous areas. These areas are also the sunniest, with snow and sun being equally scarce in Vienna. Unfortunately, where it doesn't snow it rains.
What to pack for winter in Austria
Despite what looks like freezing temperatures, you don't have to feel the cold if you come armed with the appropriate attire. In fact, we are often much colder in South Africa in winter than in Austria.
My best advice is to always wear one warm jacket with layers underneath. It's sometimes so hot inside restaurants and shops that you can easily strip down to a t-shirt. Here is a list of essential things to keep you warm and comfortable when outside:
Warm down jacket, preferably knee-length.
Pair of fur or wool lined waterproof boots
Set of thermal underwear for outdoor activities
Warm hat

that covers the ears
Pair of lined gloves with finger flaps (to make holding a mug of Glühwein or taking pictures easier 😀 )
Pair of snow gloves if you're planning on playing with the white stuff
Disclosure: My content is intended to help you plan the best trip to Tyrol and Austria. Where appropriate, I include affiliate links in blog posts or pages to help you access relevant services, attractions, and products. I may earn a small commission, at no additional cost to you, to help me maintain the blog if you click through and make a purchase. All support is appreciated!
Pin it for later!
Was this post helpful? Please share it!